Taco Haystacks
This recipe for taco haystacks is fun and versatile. It can be easily customized to your individual taste and is a favorite among kids and adults.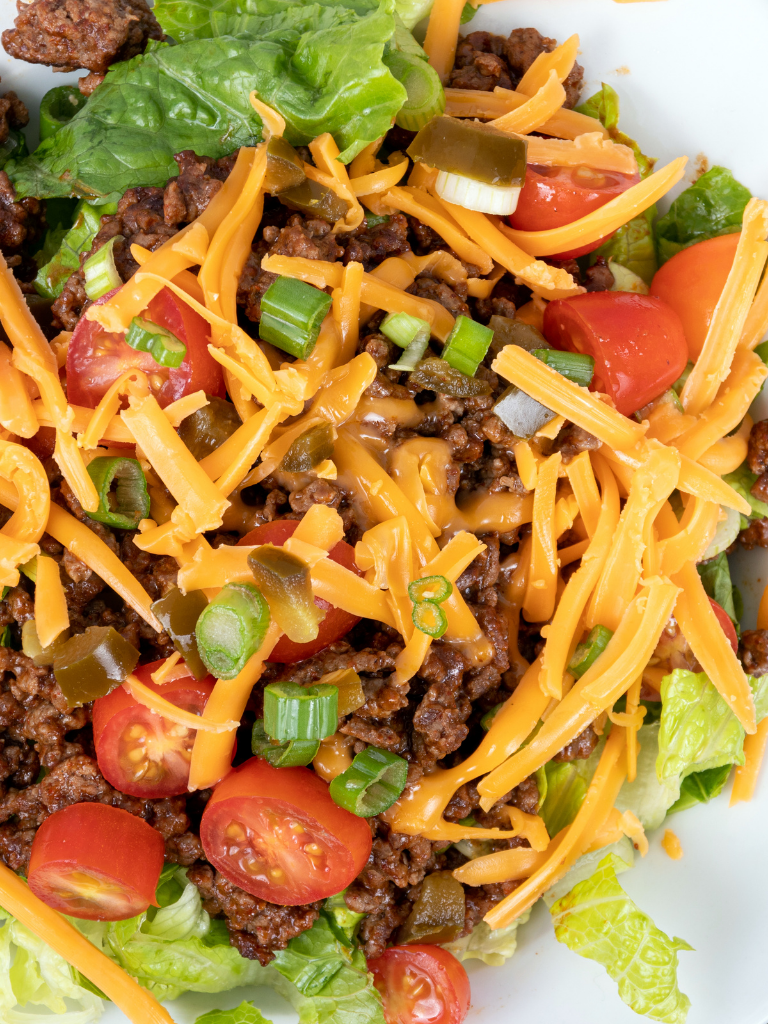 Taco Haystacks (some call it taco salad) have been my favorite weekend meal since childhood. Growing up, we had it often at home, school, and at church potlucks. Now, it's one of my kids' favorite meals too.
Who wouldn't like taco haystacks? There's corn chips, tortillas, or Doritos; beans, veggie meat sauce, or veggie meat crumbles; and veggie cheese shreds or cashew cheese sauce—a combination made in heaven. Add to this lettuce, tomatoes, olives, and sour cream, and you have a fun, tasty meal.
Over the years, I've made so many variations of this taco salad—I've added brown rice, covered it with a cashew cheese sauce, and baked it like lasagna. Sometimes I've used just beans, or I've used just the veggie meat sauce. And then sometimes I've used both. There's no right or wrong way to make taco haystacks. The combinations are endless.
Basic layers:
Corn chips, tortilla chips, Doritos, etc.
Beans (pinto, red, or black)
Vegan cheese shreds
Tomatoes
Onions
Lettuce
Sour cream or Ranch dressing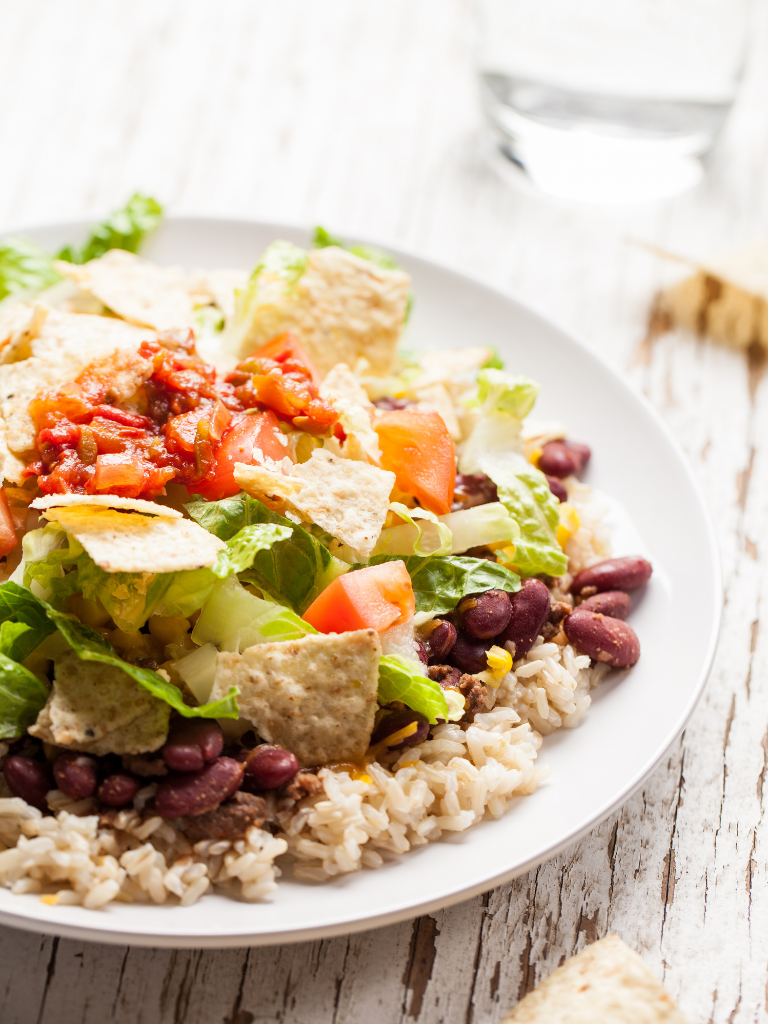 If you want to jazz it up a bit, here are some additional items to layer on or swap out:
Additional Toppings
Taco shell bowl
Brown rice
Olives
Meat sauce
Vegetarian meat crumbles
Guacamole
Salsa
Raisins (don't knock it before you try it!)
Corn
Green onion
Jalapenos
You can use canned beans or make your own from scratch. I usually use my Instant Pot to make the beans. It really speeds up the time. However, you can use a crockpot or a pot on the stove—whatever floats your boat.
Have fun with this recipe. Let your kids pick out toppings or have all of the toppings available for each person to choose from. Look for oil-free options to help keep it low-fat and enjoy!
Difficulty:
Beginner
Prep Time
10 min
Cook Time
15 min
Total Time
25 mins
Servings:
6
Description
Taco haystacks are a fun and versatile meal. It can be easily customized to your individual taste and is a favorite among kids and adults.
Instructions
Basic Layer
Rinse and drain the beans. Add to a pot and cook on medium heat until warmed, about 6 or 7 minutes.

Chop tomato and onion.

On a plate, layer chips, beans, cheese, onions, tomatoes, and sour cream or ranch. Serve and enjoy!

Add additional toppings and customize to your liking.
Meat sauce
Thaw package of Morningstar sausage patties.

Thaws well in the microwave or leave in the refrigerator a few hours before cooking.

Add oil to a saucepan and saute garlic and patties for about 1 minute. 

Add seasonings and cook, stirring continuously, until meat browns.

Add spaghetti sauce and stir to combine. Let simmer for 2 to 3 minutes.

Add Grillin Beans and stir to combine. Let simmer an additional 2 to 3 minutes.

Serve over chips in place of bean and add additional toppings. Enjoy!
Keywords:
main dish, kid friendly, vegan, vegetarian, oil-free, lunch, dinner
Roz | Losing Weight After Forty