Crispy Baked Fries (Oil-Free)
These crispy baked fries are seasoned to perfection. Not only are they filled with flavor and crispy goodness, they're healthy too.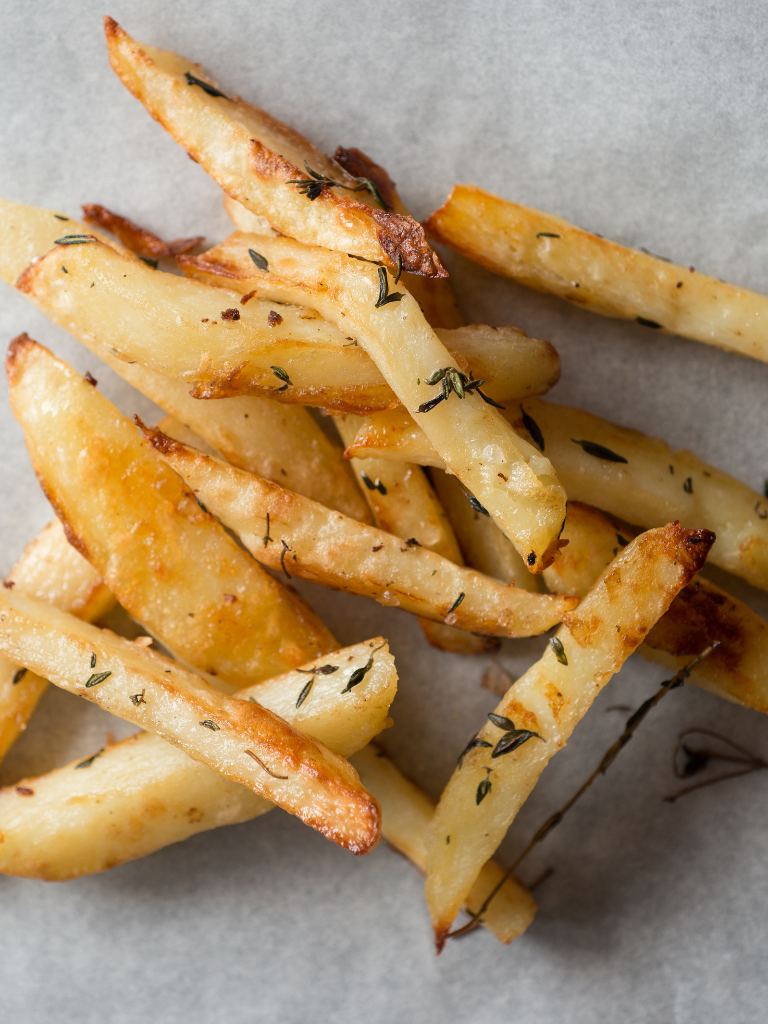 I love french fries. It's one of my weaknesses. There's just something comforting about the crispy outside and soft, flavorful insides of fries. So when I went oil-free, I had to find a replacement for fried, well, fries. Enters Crispy Baked Fries (and they're oil-free too).
This recipe for oil-free baked fries delivers crispy goodness along with yummy flavor. Eat them with a delicious black bean burger or as a snack on the go. Either way, I'm sure you'll fall in love with these mouth-watering oven-baked fries.
What helps give these oven-baked fries its crispy texture without oil? Ice cold water.
I got the idea for using cold water from Danielle at Healthy Girl Kitchen. I just tweaked the seasonings a bit and voila! I discovered my favorite french fries recipe.
Difficulty:
Beginner
Prep Time
15 min
Cook Time
30 min
Total Time
45 mins
Servings:
2
Description
These crispy baked fries are not only filled with flavor and crunchy goodness, but they're also healthy too. Pair with black bean burgers or eat as a snack on the go.
Instructions
Preheat oven to 450⁰ F. Line a baking sheet with a silicone pad or parchment paper.

Scrub the potatoes clean, peel (if desired), and cut into your desired shape (strips or wedges). 

While the oven is preheating, place cut potatoes in a bowl of ice-cold water for 10 minutes.

Completely drain water and pat almost dry. Toss with seasonings and line on baking sheet.

Make sure the potatoes are not crowded together on baking sheet—leave space in between.

Bake for 30 minutes or until potatoes are crispy and golden brown.

Serve with ketchup, BBQ sauce, or your favorite dipping sauce.
Keywords:
oil free, vegan, vegetarian, starch solution
Roz | Losing Weight After Forty