Ultimate Daily Planner for Kids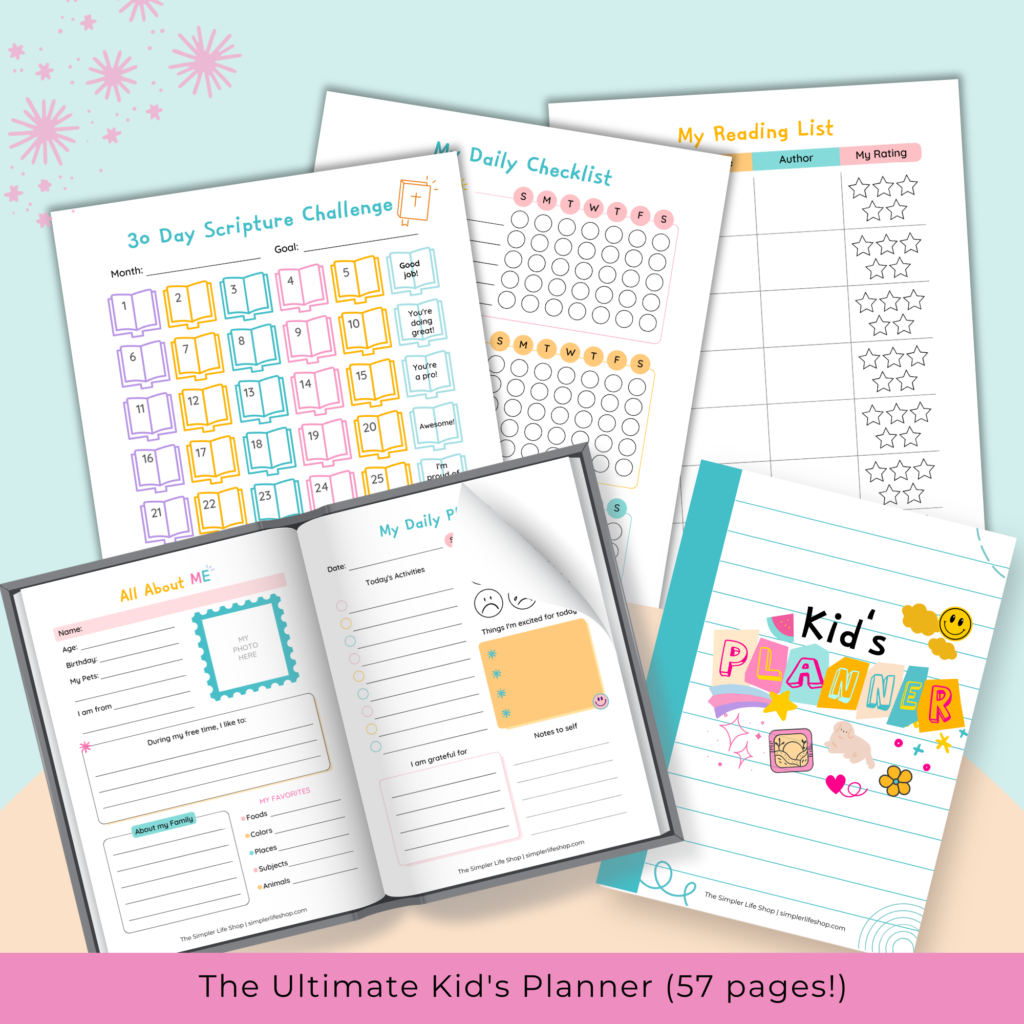 This printable kid's daily planner is perfect for organizing your child's day. The colorful design will keep them motivated and excited to stay organized. The planner includes sections for tracking daily tasks and goals, about me and journal pages, home and school logs and tracker pages, and much more. It also features helpful reminders and fun stickers to keep kids on track. With this planner, your child will learn valuable organizational skills that will last a lifetime.
57-page printable planner for kids.
PDF Format
Digital Product
No Refunds on Digital Products
Instant Download – no physical product will be sent.
Ultimate Kids' Planner Contents
Pages include:
Cover page
Personal info page
All About Me
New Year Resolutions
Daily Planner Page
Daily Schedule
Daily Checklist Example
Daily Checklist Blank
Daily Reflection
Weekly Planner
Weekly Responsibilities
Weekly Gratitude Page
Monthly Planner
Year in Photographs
Class Schedule
Timetable Planner
Attendance Log
Classmate Directory
Homework Tracker
Exam Timetable
Grade Tracker
Reading Log
Reading List
Book Summary
Book Review
All About my Pet
14 Day Habit Tracker
Scripture Challenge
A to Z Bucket List
Art Bucket List
Travel Bucket List
Birthday Party Planning Page
Special Dates Yearly view
Field Trip Planner
Field Trip Log
Field Trip Photo Journal
Mood Tracker
Favorite Quotes
Favorite Shows and Movies
Monthly Water Tracker
31 Days No Spend Challenge
30 Days Black Challenge
Sleep Tracker
Brain Dump
Doodling Page
Notes Page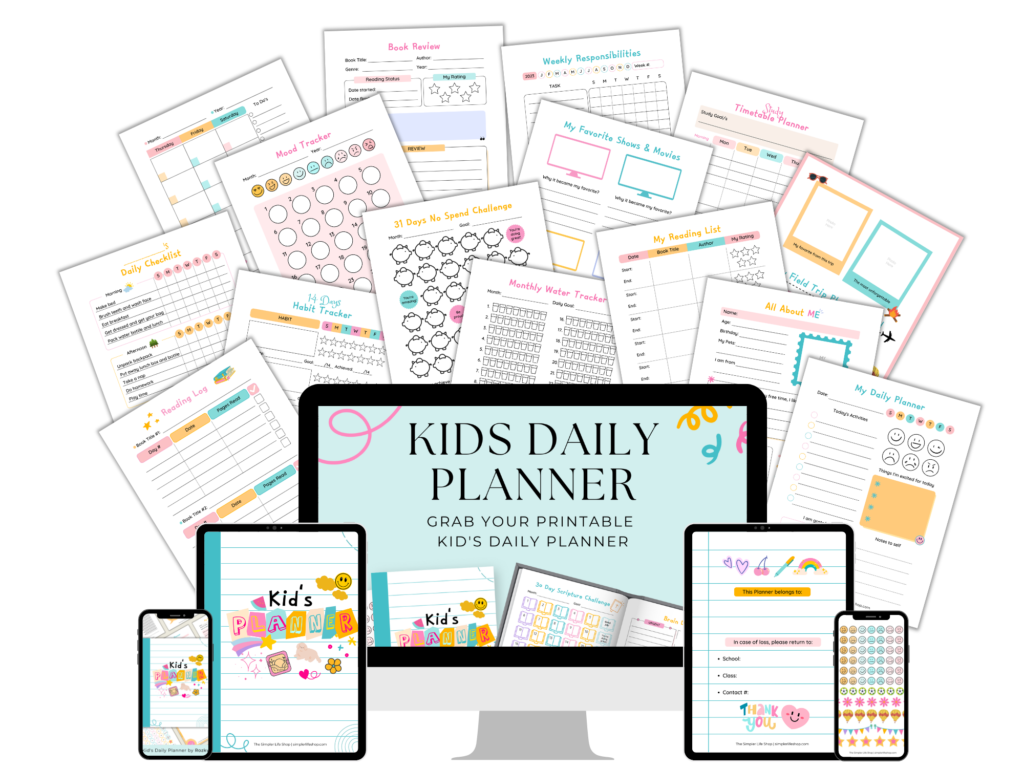 Why Your Kid Will Love It:
🌈 Colorful and Exciting Design: Say goodbye to boring planners! Our vibrant design will keep your child engaged and eager to get organized.
🎯 Track Tasks and Crush Goals: From homework to chores, this planner has it covered. Your kid will love checking off tasks and setting and achieving their own goals.
📘 About Me and Journal Pages: Let your child express themselves with personalized pages. It's a wonderful way to foster creativity and self-reflection.
🏠 Home and School Logs: Keep tabs on important events, appointments, and assignments. It's the perfect tool for parents to stay in the loop too!
🌟 Fun Stickers and Reminders: Who says planning can't be a blast? Our planner comes with cool stickers and handy reminders that add a dash of fun to every day.
Why You'll Love It:
🧠 Builds Organizational Skills: Give your child a head start on lifelong organization skills that will benefit them in school and beyond.
👩‍👦 Encourages Independence: Watch as your child takes charge of their own schedule, boosting their confidence and sense of responsibility.
👨‍👩‍👧‍👦 Creates Quality Family Time: Use the planner as a conversation starter about your child's day, and watch your family bond over shared experiences.
👋 Saves You Time and Stress: No more last-minute scrambles to find that permission slip or remember the soccer practice schedule. It's all in the planner!
Get your Kid's Daily Planner now and set your child up for a successful, organized, and fun-filled day!